Special Events for 2022
We have a limited number of special events planned this year, due in part to our delayed opening. The season opener itself will play host to the civil war re-enactment, which is traditionally one of our most popular events.
Ghost Trains – After Sunset Saturday October 8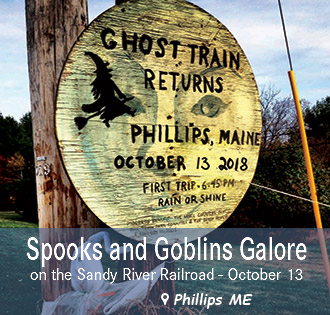 Join us for our annual ghost train runs. This is a cooperative event supported by the local eighth grade class, and the proceeds are used to fund an educational class trip to Boston. The first train runs at 6:45 PM, rain or shine, with departures about every half hour thereafter. The full event runs from 6:45 to 9:30 PM.
There is usually a large display of carved Jack-o-lanterns in the woods along with live actors to give it a Halloween flair. Who knows what we might encounter as our intrepid little train plies the rails in darkness? There is really only one way to find out, so buck up and join us for an eerie ride through the dark Maine woods. For those of you who are afraid of the dark, there will also be daytime train runs from 11 AM to 2 PM on this date.
Earlier Events
Civil War Reenactment – Saturday July 33, 2022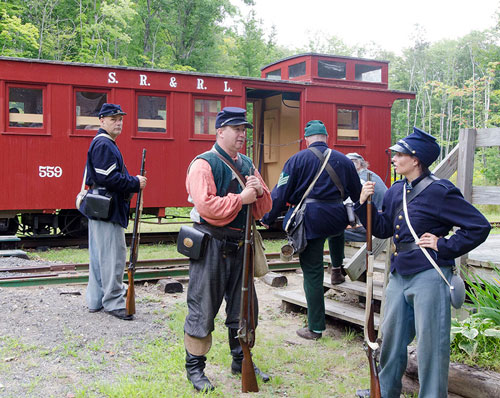 Uniformed forces of the Union and the Confederacy encamp along our railway and battle for control of the train. This event features exchanges of black powder pistol and rifle fire, and control of of the line changes so many times you would think it was the Baltimore and Ohio!